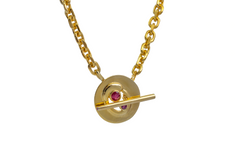 Rodete Studio
JUPITER GOLD GEMO ASTROLOGÍA
Choker de plata .925 con esmeralda u otras piedras basadas en la carta astral.

Variación Gemo astrológica basada en la Carta astral.

En el momento de tu nacimiento los astros quedan reflejados en un mapa con tus energías personales; así, queda grabado el potencial que está dentro de ti.
Otorga fluidez, protección y suerte, contrarrestando o anulando energías no deseadas al portar una pieza con tu piedra o cristal personal. También fomenta la toma de conciencia sobre nuestro mayor potencial y desarrollar nuestras mejores actitudes para atraer abundancia en todas las facetas de nuestra vida.
El precio de la pieza gemo astrológica puede variar levemente dependiendo de la personalización que se elija.
Cuidados:
- Limpiar con un trapo suave antes y después de usar la pieza.
- Si hay manchas (por oxidación) sumergirla durante 2 minutos en líquido Limpiasteg, lavar con agua y jabón y secar muy bien con un trapo suave.
- Cuando no se use, mantener la pieza guardada en su empaque o en un lugar seco y limpio.
Dije Jupiter Gold Plated
Inspired in the synergy of personal power with the magnetism and power of stones.
Silver choker with gold and ruby ​​stone
Jewelry and care

- Before and after wearing the piece: clean it well with a soft cloth.
- In case of stains (from oxidation): soak in Limpiasteg liquid solution for 2 minutes, wash off with water and soap, and dry well with a soft cloth.
- Storage: keep it in a dry and clean place inside a pouch or box.